Learn More About The Marble Man and Our Games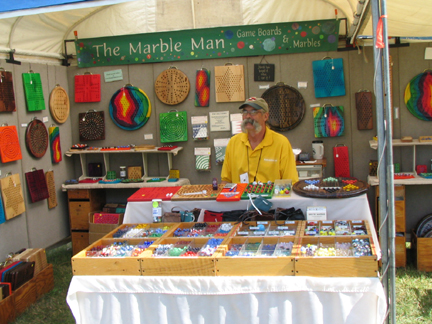 The Marble Man is a game board and marble business established in 1983. It was started by Jack and Sue Hahn after Jack sold several Chinese checkerboards at a craft show where Sue was doing her off-loom weaving.
Over the years, we have experimented with various materials and finishes that we use for our boards. Sue developed our unique, brightly colored tie-dyed boards through several years of trial and error.
Most of the game boards we produce are made of pine wood. However, we also use an assortment of hardwood depending on its demand and availability.
We drill, finely sand, and stain the wood to create beautiful products. Either dark (red mahogany), medium (special walnut), or light (golden oak) pigments are used to color the boards we have crafted. Finally, the boards are finished with three coats of water-based polyurethane
You may turn to us for game boards in the following colors:
Red
Yellow
Turquoise Blue
Orange
Hot Pink
Purple
Green
Black
The marble aspect of our business has evolved along with our game boards. When we first started making our game boards in 1984 we bought the six standard colors of marbles. However, a lot of our clients kept asking if we offered anything else, so we looked for factories in West Virginia and established a working relationship with them.
Throughout the years, we have gotten hold of several limited-run and miscellaneous items, which we have shared on a limited basis. We only labeled their boxes depending on where and when we got them.
We have been organizing our stuff lately and found some items we would want to share with our collectors. We will be taking photos and posting them on our website as we can.
Any payments made through Visa, MasterCard, Discover, and PayPal are accepted. We strongly recommend not sending cash in the mail. For questions, please reach out to us via email (please put the word "Marble" in the subject line). You may also call us at (804) 448-9100.